SHIMADZU TODAY features Shimadzu Group's latest news, highlights, and stories by categories such as Topics, Technology, CSR, History, Culture, etc. Check out SHIMADZU TODAY and learn more about Shimadzu Group.
Published twice a year, the free on-line Shimadzu Journal will focus on specific topics in each issue.
It introduces collaborative research, and contains many technical reports and application notes written by Shimadzu.
For more details, visit
The Current Issue:Featuring Biopharmaceutical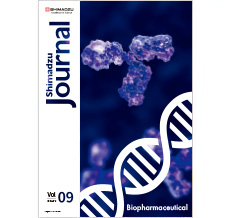 This issue focuses on Biopharmaceutical. It starts with three customer interviews in which users discuss their relationship with Shimadzu. The first interview is with Ms. Shraddha Mane, the R&D and QC head at HiMedia Laboratories Pvt. Ltd in India. In the second one, we talk with Dr. Shivam Mukherjee of Intas Pharmaceuticals Ltd.. And the final interview, we heard from Dr. Noel Zahr of Assistance Publique–Hôpitauxde Paris (APHP). In addition, we highlight four applications and present information on the latest news and application notes/ topics.​