Ultra High Performance Liquid Chromatograph
LabSolutions Chromatography Software
Extract the Smallest of Shoulder Peaks 
The i-PeakFinder tool can automatically recognize peaks even in complex chromatograms with high noise, and accounts for baseline drift for higher integration accuracy. Adjustable parameters in i-PeakFinder, such as peak detection threshold, allow the user to detect smaller peaks. In addition, the i-PDeA II function can quantify peaks that cannot be completely separated by a column. Separate peaks by simply specifying the time and wavelength in LabSolutions.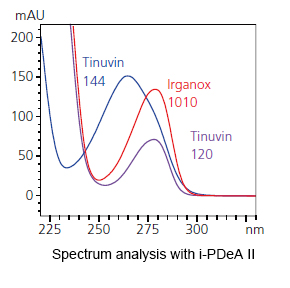 It is important to use the most appropriate column in your LC system to achieve the highest efficiency and most accurate chromatograms. The Shim-pack series consists of a range of columns designed with the increased capabilities of the Nexera in mind. The superior ruggedness of Shim-pack columns ensures a long lifetime even with demanding sample matrices.
Shim-pack Velox™
The superficially porous particle (SPP) technology allows for optimum separation and analysis times. The range of column types available enables you to choose the most appropriate column for each application.

Shim-pack™ XR-ODS II & III
Although the Shim-pack XR-ODS II has a particle size of 2.2 μm, it can be used up to a pressure of 60 MPa, making it appropriate for a wide range of analyses. The particle size of the XR-ODS III column has been reduced to 1.6 μm. With a maximum pressure of 100 MPa, it achieves high separation even with a short column length.
These columns are suitable for shortening analysis times while taking full advantage of the high separation power of UHPLC.

Shim-pack™ GIS/GIST/GISS
The Shim-pack GIS/GIST/GISS series lineup includes columns with particle sizes ranging from 5 μm, appropriate for HPLCs, to 2 μm, appropriate for UHPLCs. With a variety of substrates available, they are ideal for method development.
| | |
| --- | --- |
| GIS Series: | HPLC columns packed with a high-purity silica gel material as a base. With high particle uniformity to secure the mobile phase path, these columns are ideal for low-pressure analysis. |
| GIST Series: | An increase in the inertness of the silica results in improved peak shapes and ruggedness. Can be used in pH 1–10 environments. Easy to use for a wide range of chemicals and environments. |
| GISS Series: | Adding to the advantages of the GIST series, a faster elution time has been achieved to provide even sharper peaks. |
Shim-pack Scepter
Excellent stability and performance could be achieved under a wide range of LC conditions with Shim-pack Scepter LC columns, which are the next generation organic silica hybrid based columns. With different chemistry characteristics, Shim-pack Scepter columns are effective for method development/scouting with suitability for use in a wide variety of applications. With different particle sizes (1.9 μm, 3 μm, 5 μm) and different column dimensions, Shim-pack Scepter LC columns are fully scalable between UHPLC, HPLC and preparative LC making method transfer seamless between different laboratory instrumentation.

ANALYTICAL INTELLIGENCE
Automated support functions utilizing digital technology, such as M2M, IoT, and Artificial Intelligence (AI), that enable higher productivity and maximum reliability.
Allows a system to monitor and diagnose itself, handle any issues during data acquisition without user input, and automatically behave as if it were operated by an expert.
Supports the acquisition of high-quality, reproducible data regardless of an operator's skill level for both routine and demanding applications.
Related information
The LC-2030C NT is an integrated high-performance liquid chromatography system which prioritizes easy-to-use features for a smooth analysis experience. The intuitive touch-screen interface and stable column performance over many continuous injections ensure reliable data every time, whether you are an HPLC beginner or an expert.

Column replacement is a breeze with the Shim-pack™ NT-ODS slide-in column. Simply slot the monolithic column into place and it connects automatically, with no need for any tools and no risk of human error.

Remote data monitoring allows more flexibility in scheduling and work from home possibilities.


Exact Mass Database for Endogenous Metabolites contains multiple ready-to-use methods for comprehensive analysis of metabolites with different properties. It is based on the successful LC/MS/MS Method Packages for Primary Metabolites, Cell Culture Profiling, Lipid Mediators, Short Chain Fatty Acids, and Bile Acids, and provides a comprehensive list of 470 metabolites with retention times and exact mass information.